ACDC On-grid solar split air conditioner wall split type, the power from solar panel priority supply directly to indoor&outdoor fan motor and compressor.
When the solar power is not sufficient, by equipped with dual PV MPPT tracking system, the system automatically switches to run by grid power, thus achieved the AC/DC power supply interaction, and uninterrupted supply power to air conditioner, ensure the system high efficiency up to SEER36, high quality with 3-5 years warranty, convenient installation, wide voltage design, free combination of solar panels.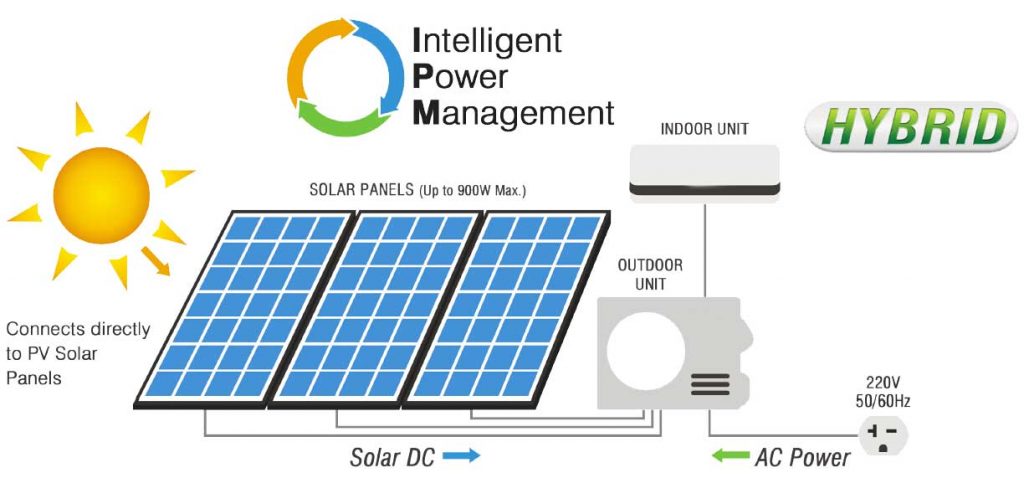 Cooling capacity 9000BTU/12000BTU/18000BTU/24000BTU Inside building digital calculator to priority biggest using DC power, auto balance 220V city grid power. DC input range is DC50V~DC300V, so can connect max around 900W solar PV panel Max consumption 90% solar DC power.
This solar hybrid air conditioner no need battery, install take small place, so for the end user whole system running cost is very low.
When night, it can same as normal inverter air conditioner by city power 220V.